Functional Advantages of Inertia Cone Crusher
The cone crusher can be divided into coarse and medium and fine types according to the working property, into hang type, axle supporting type and vibrating type according to its structure and functions. We will take the gyratory crusher which is one of the coarse cone crushers as an example. The main working organism of this machine is composed by movable cone and fixed cone, the rocks that will be crushed will be driven by the movable cone to the fixed cone and be crushed in the crushing chamber. The size and the coverage size of the gyratory crusher are huge, but it has high production capacity and crushing power, for this reason, it is often put in the first crushing stage in the crushing work.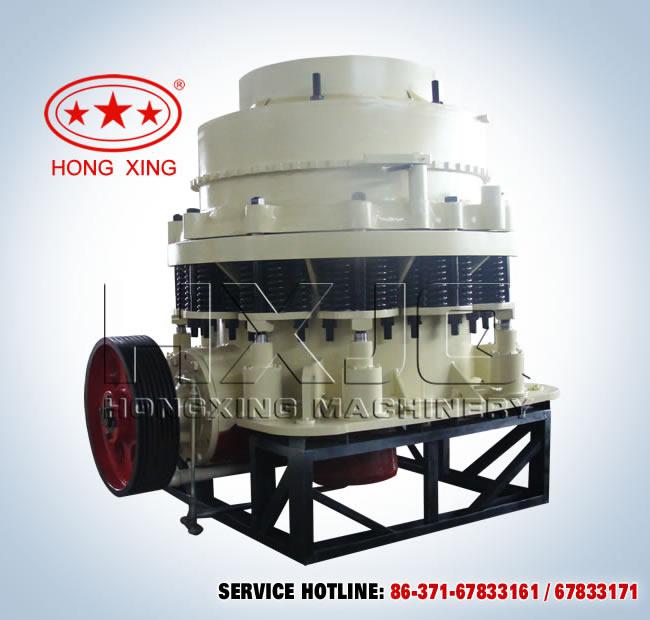 The movable cone toothed plate of the equipment is the main easy-wearing part, and the adjustment of the ore discharging mouth and the change of the lining board is relatively complicated, consequently, during the designing and manufacturing process of the equipment, it is necessary to equip a device that is able to automatically adjust the ore discharging mouth, then the hydraulic gyratory crusher is produced. The main difference of this machine and common crusher lies in that there is installed a hydraulic cylinder on the supporting ring of the main shaft hanging point or on the bottom of the main shaft in order to support the main axle. The adjustment of the ore discharging mouth of the hydraulic gyratory crusher is relatively convenient and it can be achieved through the control of the pressure inside the hydraulic cylinder.
The inertia cone crusher is designed and produced combining the foreign advanced technology and the actual domestic application situation. This machine belongs to high-efficient energy-saving fine crusher and it has high crushing ratio and production efficiency. Compared with traditional cone crusher, this equipment has many advantages. Firstly, it realizes "material layer crusher" which effectively reduces the unit crushing ratio energy consumption; secondly, it realizes the function of flexibly adjusting the product granularity which effectively improves the quality of the final products. Through structure optimization design, this machine simplifies the crushing process to the biggest extent, and what is more, this equipment has strong hard material removal ability which is able to effectively ensure the smooth proceed of the crushing process and keep the equipment in a safe and stable production state.
Related Articles:
Hydraulic Cone Crusher has Bright Use ProspectGeneral Introduction to Hongxing Cone CrusherFeatures and Benefits of Cone Crusher The Effective Measures on the Developing Innovation of Cone CrusherHydraulic Cone Crushers Start to Stand out in Global MarketThe Manufacturing of Cone Crushers is Combined with Low Carbon