Origin, Actuality and Approach of Ball Mill
The Origin of Ball Mill
In 1891, Konow and Davidson applied for a patent of ball mill, which was a cylinder filled with grinding mediums, supported by the devices in both ends. The cylinder is rotated by the centre line of the cement mill. The grinding medium falls down from the certain height by the frictional force. The materials through the constant impact and grinding by the grinding medium in the cylinder are to be the qualified products.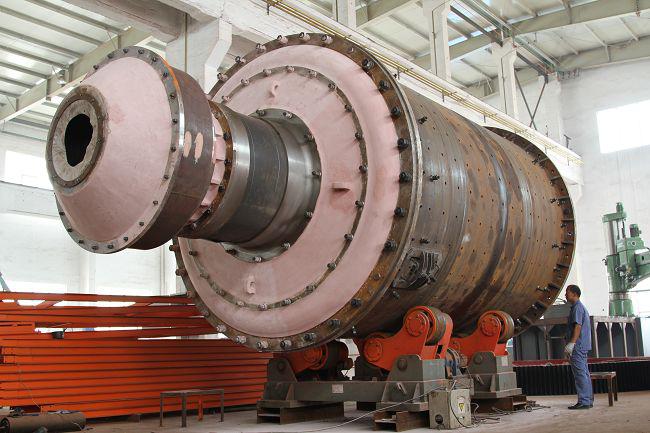 When the grinding medium is the steel roll, the mill is called the rod mill. The main size of the ball mill is the diameter and the length of the cylinder. The ratio between the length and the diameter of the cylinder is called the length-diameter ratio. The mill of ratio smaller than 2 is the short mill without any silo, ratio around 3 is the mid-long mill with 2 silos, ratio bigger than 4 is the long silos with 3 or 4 silos.
The Actuality of Domestic Ball Mill
The ores dressing technology in our country is influenced deeply by the former Soviet Union. The main crushing equipment is ball mill, with only a few enterprises using rod mill to protect the fragile minerals such as tungsten, tin, antimony and key.
The main ball mill in our country includes the cement ball mill, tubular ball mill, cone ball mill, chinaware ball mill, internal, overflow type and lattice type ball mill. The rotating speed mainly ranges from 17 to 28r/min, with the discharging particle sizes ranging from 0.075 to 0.89mm, the productivity from 0.65 to 100t/h and the total weight from 5.5 to 175t.
Several Significant Problems Faced by Domestic Ball Mill
1.High cost of ball mill devices. Since the rotating speed of the ball mill cylinder is relatively low (15 to 15r/min), the engine should be collocated with expensive graduating device.
2.High cost of production. The grinding medium is abraded while impacting and grinding the materials. Therefore, during the cement producing process, the need of steel boards is large, with 1 kg per ton cement.
3.Low working efficiency. In the process of producing the cement, the electric quantity used for crushing is about 2/3. According to statistics, the power consumption of producing one ton cement is not lower than 70 kwh. But the economizing of this part of electric is very low.
4.Large size. The weight of large type ball mill can reach several tons.
Future of Ball Mill
The coming years will be the rapidly developing period of ball mill all over the world, especially for Chinese ball mill. It is important for the domestic mining enterprises to improve the research and update of product and build the systematic and comprehensive after-sale service.
Related Articles:
Research Meaning of Ultra Critical Rotational Speed Ball MillThe System Composition of Ball MillUsing Amount and Ranges of Lubricating Grease for Ball MillThe Permanent Innovating Step of Hongxing on Ball Mill Research on the Performance Indexes of Ball MillRelationships between Ball Diameter and Ball Mill Output