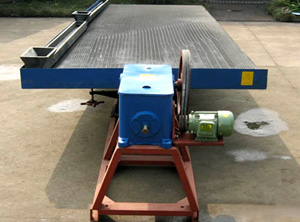 Concentrator Table/ 6-S Concentrator Table
Concentrator table or shaking concentrator is a mine selecting machine for fine materials. It is widely used in selection of tin, tungsten, gold, silver, lead, zinc, tantalum, niobium, iron, manganese, ferrotitanium and coal. Hongxing 6-S type concentrator table is new physical concentrating equipment. It is mainly used for concentrating rare metal and rich metal ore like gold, silver, lead, zinc, tantalum zinc, tantalum nickel, and tin.
Hongxing 6-S type concentrator table combines the national concentrator table and weight concentrating technology, and it has many advantages such as high concentration ratio, high concentration efficiency and easy and convenient operation. It is different from the traditional one in non-medicine, energy saving, easily deal and high price performance ratio.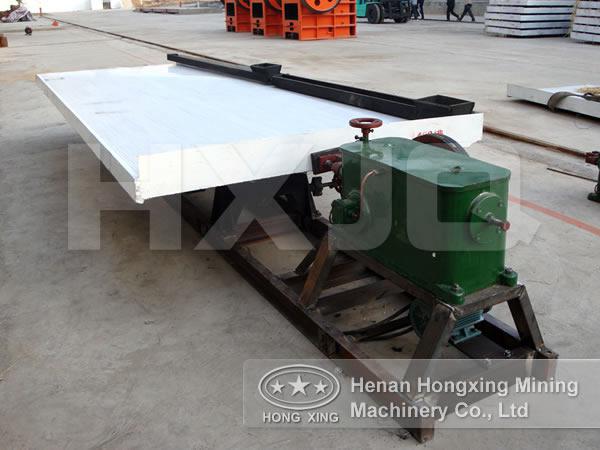 Wide Application And Features Of Shaking Table
It is widely used in sorting tungsten, tin, tantalum, niobium, other rare metals and precious metal ores. It can also be used for sorting iron, manganese ore stone and coal. When dealing with tungsten, tin and other minerals, its effective recovery size is 2-0.02 mm. 6S gravity shaker has many features such as good high-grade ore sorting rate, high efficiency, easy operation and maintenance and easy stroke adjustment.
The Structure Of Table Concentrator
Head Motion: The head motion requires minimum maintenance. Its internal mechanism is an integral oil sump.
Decks: The decks are built of 16 mm zircon-reinforced fiberglass with fabricated steel frames at the bottom and are easy to clean. This fiberglass desk also has the characteristics of water-resistance and corrosion-resistance and can hold the shape unchangeable at ±50℃.
Feed and Water Box: A wooden feed distributing box with hopper and a long water box are attached to the iron of the deck, which can give a very even distribution of feed and water.
Base: A choice of ordinary type, groove steel support or big channel steel support is available.
Working Principle Of Jerking Table
Shaking Table beneficiation refers to that on a slant table, relying on the combined effect of the symmetrical and reciprocating motion of the mechanical slabstone and the lamella slant water flow, the ore particles become loose, layered and zoned on the table, thus separating the minerals based on density.
Concentrator Table Price
Concentrator Table Model Hongxing machine produced a rich, diverse products, reasonable price, if you are interested in this product, please send us a message obtain more detailed price list.
Name
Grit
concentrator
table
Fine sand
concentrator
table
Sludge
concentrator
table
Bed surface
Dimensions
Length
(mm)
4450
4450
4450
Driving
part Width
(mm)
1855
1855
1855
Concentrate
part Width
(mm)
1546
1546
1546
Max.feeding
size(mm)
2
0.5
0.15
Feeding
amount
(t/d)
30-60
10-20
15-25
Feeding
thickness
(%)
25-30
20-25
15-25
Stroke
(mm)
16-22
11-16
8-16
Frequency
(f)
45-48
48-53
50-57
Bed surface
Water quantity
(t/d)
80-150
30-60
10-17
Bed surface
Horizontal
obliquity(°)
2.5-4.5
1.5-3.5
1-2
Bed surface
Portrait
obliquity(%)
1.4
0.92
----
Table board
corner(°)
32-42
40
42
Concentrating
area(㎡)
7.6
7.6
7.6
Bed surface
Length ratio
2.6
2.6
2.6
Shape of
side-bed
surface
Rectangle
Zigzag
Triangle
Motor
power(kw)
1.1
1.1
1.1
Transmission
device
Eccentricity Linkage