Gold Crusher Machine
Brief Introduction to Gold Crusher Machine
Gold crusher machine is a mechanical machine that is used in the ore beneficiation process and targets the gold as the dressing object. Hongxing Machinery can provide comprehensive gold ore beneficiation equipment and technology and the complete dressing process of gold is crushing, grinding, flotation separation, concentration, desulfurization, leach and adsorption, and the tastes of the ores is improved and the recovery rate is improved to 95%.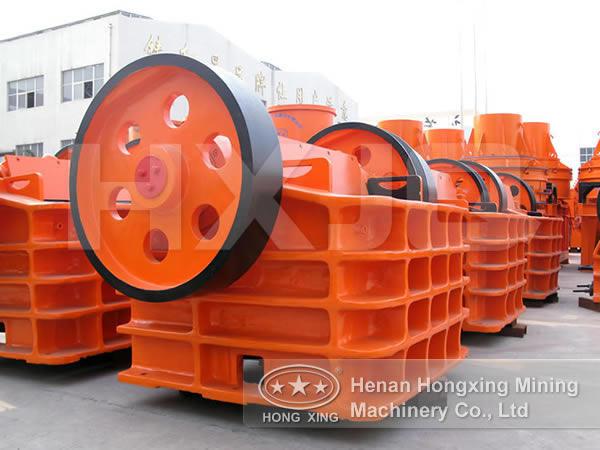 Beneficiation Method and Equipment of Gold Ore
The common gold ore dressing methods include gravity separation, flotation separation and amalgamation. The main gold ore dressing equipment include jaw crusher, ball mill, classifier, flotation machine, leaching tank, ore concentrator and dryer machine, and combined with ore feeder, bucket elevator and conveyor belt, a complete ore beneficiation production line is formed.
Major Characteristics of Gold Crusher Machine
The gold crusher machine manufactured by Hongxing Machinery has the advantages of high efficiency, low energy consumption, high processing quantity, economic cost and reasonable structure.
Production Process of Gold Crusher Machine
The mined gold ore is first primarily crushed by jaw crusher, after being crushed to the reasonable fineness, the gold ore will be evenly sent by the bucket elevator and ore vibrating feeder to the ball mill for crushing and grinding. Then the fine gold ore will go to the next procedure for classification. According to the principle that solid particles with different proportions have different falling speeds in the liquid, the spiral classifier will clean and classify the ore mixture. After classification, the gold ore will go into the flotation machine from the bucket mixer.
Henan Hongxing Mining Machinery Co., Ltd. is a professional gold crusher machine manufacturing company in China, and our products are all reliable in quality and stable in operation, so that they are well received in domestic and foreign market. Welcome to our company for visit.