Influences of Ore Grinding Granularity of Ball Mill on Flotation Machine
When we are arranging the ball mill for grinding the ores or rocks, we should take the designing of the whole ore beneficiation process into consideration because these operations are connected with each other. For example, the granularity of the products in the ore grinding stage of the ball mill has a big influence on the operation of flotation separation, for this reason, we should pay attention to the adjustment of the granularity of ore grinding.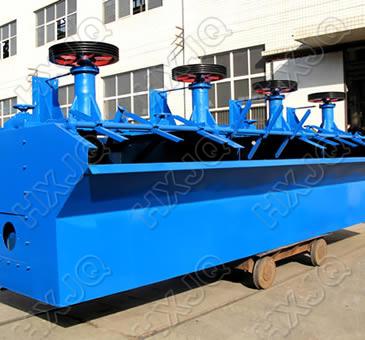 During the flotation separation process, the over coarse ore particles (larger than 0.1mm) and super fine ore particles smaller than 0.006mm cannot be floated well, so that the collecting rate will be low. If the granularity of the products ground by the large-sized ball mill is over too coarse, when they are floated, due to large weight, the dropping force needed by the ore particles will have to increase. Then we will need this:
1. Use sufficient and the most effective collectors;
2. Increase the air inflation of the pulp in order to get bigger bubble and increase the amount of the micro bubbles separated in the water;
3. Make the mixing strength of the pulp proper;
4. Properly increase the density of the pulp;
5. When the scraper blade is used for scraping the bubble, the workers should do it fast and in a stable way.
When floating the super fine ore particles: A. since the quality of the slurry is quite small so that it is easy to stick onto the surface of the coarse particles, the floatability of the coarse particles will reduce. B. Since the specific surface of the slurry is relatively big, it will absorb large quantity of flotation reagents inside the pulp, thus reducing the reagents density inside the pulp, damaging the normal flotation process and reducing the flotation index. C. Since the superficial area of the slurry is large, the surface activity is increased, so that it is easy to react with the reagents and difficult to be separated. It will cause difficult to the concentration, reduce the quality of the concentrate and reduce the flowability of the bubble products and the concentration efficiency.
Related Articles:
Research Meaning of Ultra Critical Rotational Speed Ball MillThe System Composition of Ball MillUsing Amount and Ranges of Lubricating Grease for Ball MillThe Permanent Innovating Step of Hongxing on Ball Mill Research on the Performance Indexes of Ball MillWhat Factors will Influence the Inflating Volume?