Some Problems Exist in the Adjustment of the Crushing Machine
There are some problems appearing in the practical usage of the roll crusher belonging to one production line of grinding system, and because of some reasons and some natural elements, which cannot let the grinding system reach the standard that the customers ask for all the time. Sometimes there are not the enough raw materials which can cause the big fluctuation of the composition of the materials and influence the output and quality of the clinker, and what is even worse, which also can force one process having to confront the danger of stopping usage. So that is the reason why the experts of Hongxing find some ways to solve those problems in time.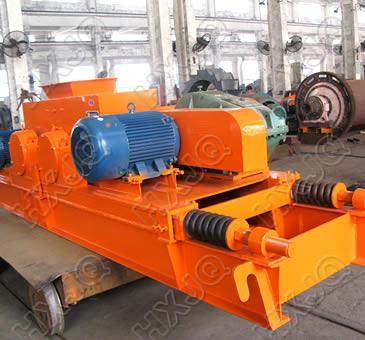 Some problems will appear in the adjustment of the crushing machine as follows:
1. The Bearing Becomes Hotter
The temperature of the bearing still cannot balance in one situation of the crushing machine without the materials in the cabinet, which can be one reason to examine the machine, perhaps you can find the bearing waste with much more grease in the exit, which can cause the discharging road full with the waste, and that is the reason why the bearing temperature is becoming hotter and hotter, and the way to solve the problem is to clean the discharging road carefully again, and at the same time to examine the dry oil returning to the normal situation, and then to restart the rolling press in order to start the new adjustment, please paying you attention to the temperature of the bearing is important, which cannot be higher than 53, and this is one signal that the trial examination of roll crusher is successful.
2. The Poor Quality of the Slurry Cake
Materials with a lot of fines leak out from the both sides of the roll wheel, in one situation like this, there is only one small part which will appear special slurry cake, and this can realize the worse efficiency of the practical pressure.
3. The Overload Running of the Bucket Elevator
The unstable partial material and the initial debugging stage will cause the poor efficiency of the crushing and the increasing of the recycling energy, and some situations like this are the reason of causing the overload running of the bucket elevator.
Related Articles:
Ultra-high Pressure Principle of Crushing MachineSeveral Commonly Used Crushing Machines in Metal MineNew Breakthrough Should Be Looked for in the Field of Crushing MachineThe New Era Created by Hongxing Crushing MachineTwo Researching Orientation of the Crushing MachineMomocps of Crushing Machine Locks in the Future