Features and Development of Compound Crusher
The compound crusher is one of the frequently used machines in the crushing production line and sand making line. It is a adjustable fine crushing machine without grate bars, and has been widely used in fine crushing raw materials and clinkers in the cement plant, and it can also be used for fine crushing the medium hard materials such as dolomite, flint clay, gold, serpentine, high slag, coal gangue, rock phosphate.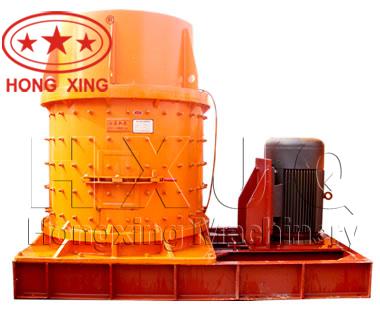 This highly efficient compound crusher made in china is a new production on the basis of the domestic mining situation and absorbed the abroad technology. It is modern efficient compound on the principle of crushing role and according of the clients' requirement. And it has the features of high product, good final product fineness, stable and easy cleaning chamber, easy maintenance and operation, low operating cost and so on.
Working principle:
Materials fall into the impeller which is rotating at a high speed from the upper part of the machine. Under the action of high speed centrifugal force, they impact and crush with another portion of materials distributed in an umbrella-shaped from around the impeller. During the crushing, a vortex is formed between impeller and enclosure.
With so many advantages of the compound crusher, Hongxing Machinery believes that its application prospect in the mineral processing departments will be excellent. As a professional and the best mining machinery manufacturer in China, Hongxing Machinery is always ready to provide the superior compound crusher with the best quality and the most competitive price.
Related Articles:
Compound Crusher,Steel frameHX Compound Crusher is Your Fine ChoiceWhy are Compound Crushers Competitive on the Market?