Sand Maker Has Significant Influence on Quality of Artificial Sand
The gravels with various granularities obtained after crushed by the jaw crusher and processed and screened are the artificial sand used in the production and construction. At present, the artificial sand has pretty wide application, and no matter making mortar or concrete, it is indispensable. Due to the needs of fast economic development, people have higher requirements for the quality of the artificial sand. For this reason, manufacturing artificial sand with high quality becomes one of the goals pursued by many mining machinery manufacturing companies.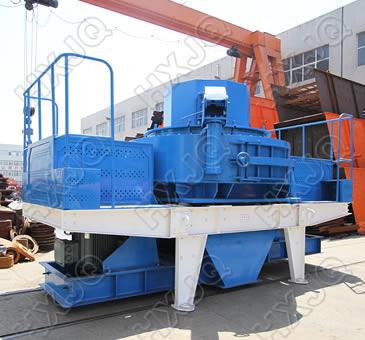 According to many years of inspection, the experts of Hongxing Machinery think that the quality of the artificial sand is to a large degree determined by the quality of the sand manufacturing equipment, which also influences the taste selection of the crushed rocks. For this reason, it is necessary to research the taste and features and applications of the rocks to the sand making companies.
By way of learning the features and applications of the rocks, the sand maker manufacturing companies will be able to use suitable equipment during the production process of artificial sand. However, they can never ignore the influence of the sand making equipment in the sand making process. Henan Hongxing Mining Machinery Co., Ltd has many years of experience, and we will be your ideal choice.
Henan Hongxing Mining Machinery Co., Ltd has many years' of technological power and experience accumulation of manufacturing and management of drying machines. The sand maker we researched and developed with great concentration plays an active role in the mining and ore beneficiation industry and is one of the indispensible mining crushing equipment in the mining industry. This machine has the most competitive price and the most reliable quality so that it is the top choice for the high performance crushing equipment.
Related Articles:
New Type Sand Maker Satisfies the Producing Requirement of Concrete Aggregate Camfrog FAQ about Hongxing sand maker The Sales of Sand Maker Go up with Scale Development of Mining in West China