Role of Crushing Played in the Ore Beneficiation
The breaking of rocks refers to the process in which large rocks or rocks that are going to be processed overcome the internal intermolecular forces and are crushed with the help of external forces and the granularity of the rocks gradually becomes small. In the ore beneficiation process, the rock crushing is often divided in to two big stages, namely, rock breaking (coarse particle stage) and rock grinding (fine particle stage).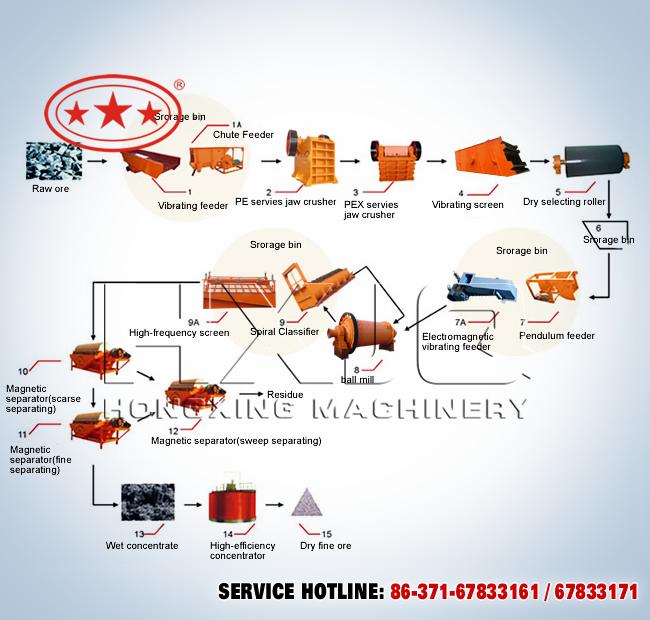 In the ore beneficiation plant, the crushing of the rocks is an indispensible material preparation stage before the ore dressing work. Firstly, the absolute majority of the rocks processed in the ore beneficiation plant contains useful minerals and gangue minerals, and is often distributed to the forms of fine particles and super-fine particles. Only by breaking them and making them fully dissociated can the workers gather them with the existing physical ore beneficiation methods.
Secondly, all physical ore beneficiation methods are limited by the granularity of the rocks, and over-coarse granularity or over-fine granularity products cannot be effectively dressed.
Among all links in the ore beneficiation process, the crushing of the rocks needs high operation fees and forms an important part in the investment of the ore dressing plant and the production cost. For this reason, the basic purpose of the rock crushing is to provide suitable feeding materials for the beneficiation work and the quality of the crushing process will directly influence the dressing technology and the economic index.
Henan Hongxing Mining Machinery Co., Ltd has many years' technological power and experience accumulation of manufacturing and management of drying machines. The sand maker we researched and developed with great concentration plays an active role in the mining and ore beneficiation industry and is one of the indispensible mining crushing equipment in the mining industry. This machine has the most competitive price and the most reliable quality so that it is the top choice for the high performance crushing equipment.
Related Articles:
Indispensible Role of Jaw Crusher in Ore BeneficiationApplication and Advantages of Core Ore Beneficiation EquipmentHow can We Realize the Metal Ore Beneficiation?Importance of Our High Efficiency Ore ConcentratorDevelopment Tendency of Ore Beneficiation TechnologyImportance of Auto-control Ore Grinding and Classifying System in Ore Beneficiation