We'd Better Know Well About the High Efficient Spiral Classifier
Today we recommend customers with Hongxing world-class classification machines and services: high efficient spiral classifiers.
The spiral classifier equipped with a ball mill as a closed cycle split ranging system is widely used by the dressing plant to distribute the mineral sand, or it is used by the gravity mill to grade ore and fine clay, to realize the size grading of ore pulp during the metal beneficiation process and to realize the removal of slime and water during the ore washing process. Our spiral classifier has simple structure, reliable work, convenient operation, etc.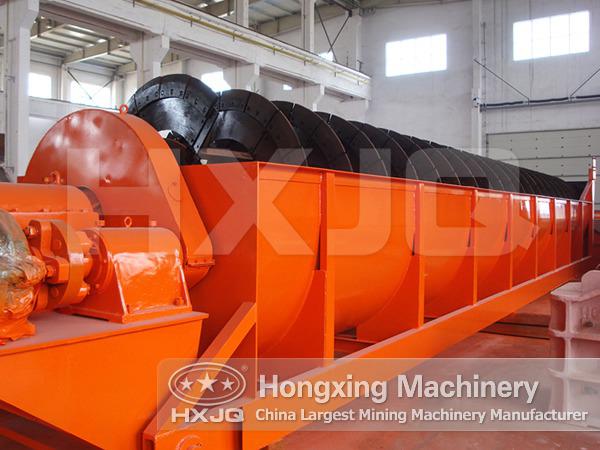 The working principle of spiral classifier is as follows: as the different sizes and proportions of the solid particles lead to the different settling velocities in the liquid, the fine mineral particles floating in the water overflow and the coarse ones sink to the bottom. The spiral classifier by discharging from the screw into the upper part to realize the mechanical classification can grade and filter the material powder coming from the grinding mill, then send the blocks into the mill's feeding hole by moving with the screw panel, and discharge the fine filtered materials out of the overflow pipe.
The base of the spiral classifier is made of channel steel and its body is welded with steel plates. The flood peak and the spindle head of the screw shaft adopt a wear-resistant and durable pig iron cover, and the lifting devices can be electric and manual.
Our company is famous for making various mining machines including spiral classifier, crushers or stone breakers, and ore dressing machines applied in many fields around the world. Hope we can cooperate pleasantly one day.
Related Articles:
The Brief Information of Spiral Classifier