Correct Operation and Advantages of High-efficiency Sand Washer
High-efficiency sand washer can also be called high-efficiency wheel bucket sand washer which is researched and developed on the basis of traditional XSD wheel bucket sand washer and combining with the actual condition of domestic sand and stone industry. It has the features of high washing efficiency, reasonable structure, big processing capacity, low energy consumption, low sand loss rate and failure rate, so that it is the best choice for the upgrading and updating of domestic sand washing equipment.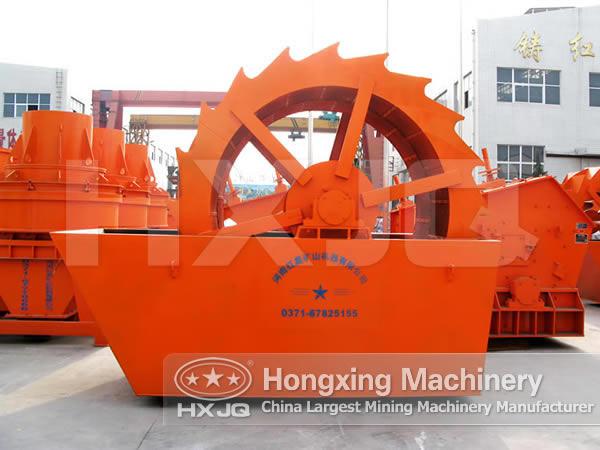 Sand washer is one of the important machines in the sand making production line. The main function of this equipment in the sand production line is to clean the qualified crushed sand and stone materials. The operation of this equipment should strictly follow the product description to avoid accident. The sand washer manufactured by Hongxing Machinery has simple structure and in the designing process, the space between the drive bearing of the impeller and water and materials, so that the bearing will not be damaged due to soaking, sand and pollutant, thus effectively maintaining the normal production. Hongxing sand washer has few easy-wearing parts due to simple and reasonable structural designing, and the dehydration effect is good, so that the fine particle products are clean and neat; in addition, this sand washer has the advantages of low energy consumption and high yield which cannot be achieved by the sand washing equipment produced by other manufacturers.
The commonly used sand washers are various in types including wheel bucket sand washer, spiral sand washer and digger type sand washer, so that when choosing this machine, the customers should make a right choice according to their specific production needs. In addition, it is advisable for the customers to choose professional sand washer manufacturer which can ensure the product quality, production application and after-sales service. Hongxing experts remind the customers that when using sand washer for the first time, let it run without materials in it for one or two hours to ensure stable operation in the future.
Related Articles:
Sand Washer Creates High Quality Artificial Sand