The Important Role of Hydraulic Cone Crusher in Infrastructure Construction
Sand and stone cone crusher is a high-efficiency crusher with advanced big power and big crushing ratio and it is mainly used for the fine crushing of materials. Driven by the tide of domestic infrastructure construction, cone crusher has become an outstanding crusher in the crushing field with its features of big crushing force, high working efficiency, high processing amount, low operation cost, convenient adjustment and economic use.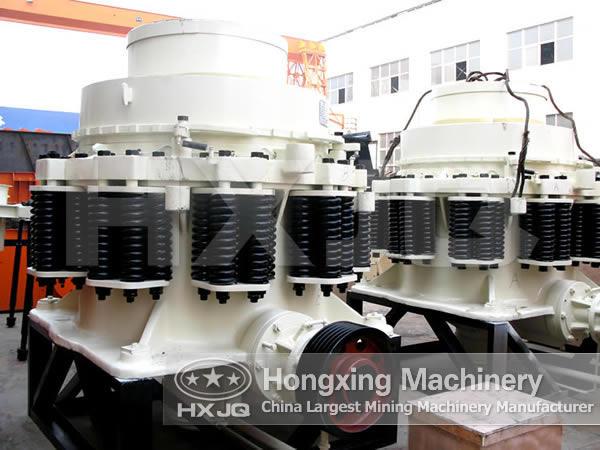 Cone crusher is suitable for the fine and super fine crushing of hard rocks, ores, slag and refractory, and it can continuously provide sufficient sand and stone materials for the infrastructure construction, so that it plays an important role in infrastructure construction.
In recent years, cone crusher constantly makes innovations in the production technology to better serve the sand stone material producers. The high-performance hydraulic cone crusher with world-class advanced level manufactured by Hongxing Machinery on the basis of introducing the latest technology from Germany not only improves production capacity and crushing efficiency, but expands the application ranges, and it can be used for processing limestone and basalt, and for producing stone materials and crushing all kinds of ores, and it has unbeatable crushing performance in the medium and fine crushing and super fine crushing process.
It is a new generation product that can replace spring cone crusher and common hydraulic cone crusher and is the ideal equipment in large stone material plant and mining crushing plant. According to the performance of this crusher, it can be divided into single-cylinder hydraulic cone crusher and multi-cylinder hydraulic cone crusher. The multi-cylinder hydraulic cone crusher is a new type cone crusher researched and manufactured by combining with single-cylinder hydraulic cone crusher and spring cone crusher and adopting advanced designing concept. Since it uses good crushing frequency and eccentric shaft, the content of fine particles in the crushed products is high, thus improving the processing ability of the subsequent handling equipment and reducing the comprehensive energy consumption.
Related Articles:
Hydraulic Cone Crushers Start to Stand out in Global MarketHydraulic Cone Crusher has Bright Use Prospect