Working Mechanism and Performance Characteristics of Tertiary Impact Crusher
The tertiary impact crusher is an effective crushing machine that is able to realize "more crushing and less grinding", reduce production cost of the companies and improve the production efficiency, and it has been widely used in many industries such as metallurgy, building materials, coal for fine crushing.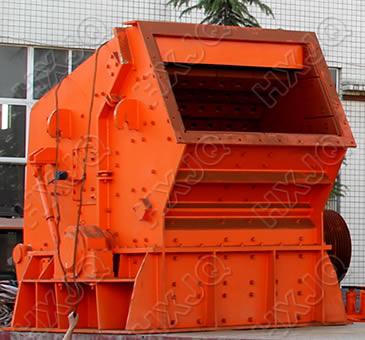 Tertiary impact crusher belongs to vertical crushing machine and the main composing parts include electromotor, main engine and the driving system. Its performance characteristics are list as follows:
1. The material discharging gap has adjusting function, so that the product granularity is even and stable;
2. It is a kind of vertical crushing machine with good sealing property and less powder dust emission;
3. It has high crushing ratio and crushing efficiency;
4. The energy consumption is low and it is able to replace part work in the first stock of the grinding machine, thus greatly improving the production efficiency of the grinding mill and reducing the steel and electricity consumption;
5. The easy wearing parts adopt high quality antifriction alloy materials, thus significantly improving the service life of the equipment.
The tertiary impact crusher is designed according to the principle of grading crushing of the materials and that the input energy gradually increases and it mainly crushes the materials relying on the impacting force. Its working process is like this: the materials gets impacting effect of the subplate of the rotor rotating with high speed after falling into the cylinder from the material feeding mouth, and then the materials will be thrown to the impacting plate along the tangential direction of the rotor with high speed, and return to the crushing chamber between the outside circle of the rotor and the impacting p plate along the slanting tooth surface of the impacting plate. This process will go on and on for many times until the materials meet the granularity requirement and are discharged out of the crushing equipment
Related Articles:
The Developing Road of Tertiary Impact Crusher will Become WiderThe Ultimate Purpose of Temporary Mining Machinery