Various Types of Impact Crusher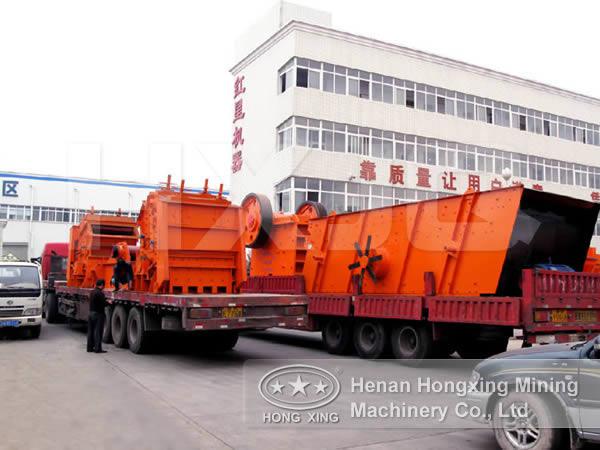 Hongxing impact crusher is a new type of high-efficiency crushing equipment. This crusher mainly consists of board hammer, impact plate, board hammer pedestal, rotor, and feed port etc. Our impact crusher is one of the most frequently used rock crushers because of its advantages of simple structure, reliable quality and energy-saving.
Special Use of Impact Crusher:
Impact crushers involve the use of impact rather than pressure to crush material. The material is contained within a cage, with openings on the bottom, end, or side of the desired size to allow pulverized material to escape. This type of crusher is usually used with soft and non-abrasive material such as coal, seeds, limestone, gypsum or soft metallic ores. There are two types of impact crushers: horizontal shaft impactor and vertical shaft impactor.
Typical Application of Impact Crusher:
Since Hongxing impact crusher has many advantages such as high crushing ratio, good granularity, big processing capacity, low wearing parts consumption, convenient maintenance and low cost, it has typical application in various industries and departments. When it is used for crushing hard rock, it is called hard rock crushing machine or hard rock impact crusher; and if it is used for processing coal, it is called impact coal mining equipment; and when it is used for breaking stone, it is called impact stone breaker or stone impactor. As we can see, impact crusher has a pretty bright development prospect.
Leading Impact Crusher in China-Hongxing Machinery
Our company has been adhering to the concept of 'people-oriented, customer supremacy, development and innovation'. We are able to provide our customers not only the highest quality products at the most favorable price, but also the most reasonable suggestion of equipments, optimum process configuration, and a full range of technical support. With several years of research and development, the experts and technicians of Hongxing Machinery has designed a new impact rotary crusher that is able to rotate so that the crushing ratio and production capacity of the machine is improved again.