Some Brief Classification of Rotating Kiln
The Advantages of Calcinating Rotary Kiln
1. Our design and engineering team will provide innovation
2. High quality and cost effective solutions
3. Simple structure and low cost
4. Easy operation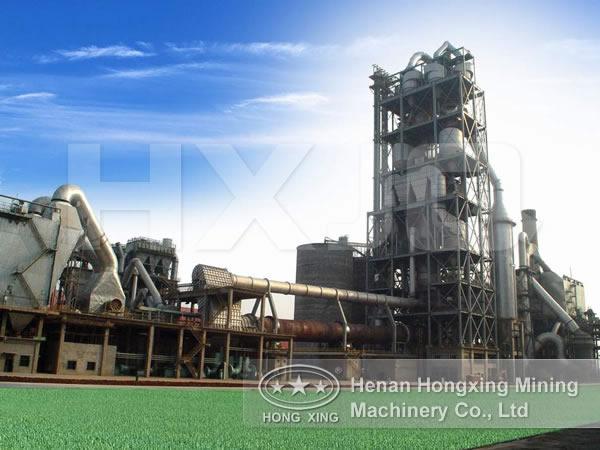 The Application of Ceramic Sand Kiln
Ceramic sand kiln whose advantages are similar to the following kilns such as rotary calcining kiln, rotating drying kiln and rotating kiln dryer is thermal equipment, heating materials, it is widely used in the fields of cement, Nonferrous Metallurgy, ferrous metallurgy, refractory material, chemical materials, paper making. Rotary kiln is composed of cylinder, gears, support device, kiln liner and kiln tail sealing equipment, kiln head hood and combustion. Cylinder as heated pivoting part, made of high-quality carbon steel plate, is supported on the support device by type, and there is mechanical or hydraulic pressure catch wheel on the first or some gears in order to control the turning of cylinder. Because of the need of installation or maintenance, the bigger rotary kiln has auxiliary gears, which makes cylinder gyrate more slowly. To prevent cold air come in and dust overflow, the reliable kiln tail and head sealing equipment is installed on feed and discharge end.
Features of Chemical Kiln
1. Simplified adopts five mechanical properties of 20g and Q235B steel plate, usually adopts automatic welding.
2. Transmission system using single drive, drive by frequency conversion motor hardened three cylindrical gear reducer, drives the kiln open gears, the drive device adopts a rubber block coupling, to increase the stability of drive, connecting power supply security of the auxiliary transmission device, can ensure the main power supply interruption can still disc kiln operation, prevent the cylinder body from bending and convenient maintenance.
3. Kiln head is sealed by a cover shell gas seal, labyrinth plus spring slices double-layer flexible sealing device.
4. Kiln tail sealing the sheet steel with graphite flexible seal.
General Introduction to Chemical Kiln
Chemical kiln is widely used to process solid materials mechanically and chemically in the industries such as building materials, metallurgical extraction, chemistry, environment protection. The chemical kiln which has the same performance characteristics as the kiln burner, rotary calcinations kiln, and rotary calciner kiln has a fortified structure and can produce high quality products. What's more, our company provides our customers with efficient shaft repeaters and five-grade cyclone repeaters.