Directory of Circumgyrate Kiln
The rotary kiln also named revolving kiln is a cylindrical vessel, which is rotated slowly around its axis. And then we can spend some time on introducing the working principle of the rotary kiln. And there are several types of the rotary kiln, such as indirect fired rotary kiln, lime rotary kiln, clay rotary kiln, cylinder rotary kiln, dry and wet type's rotary kiln.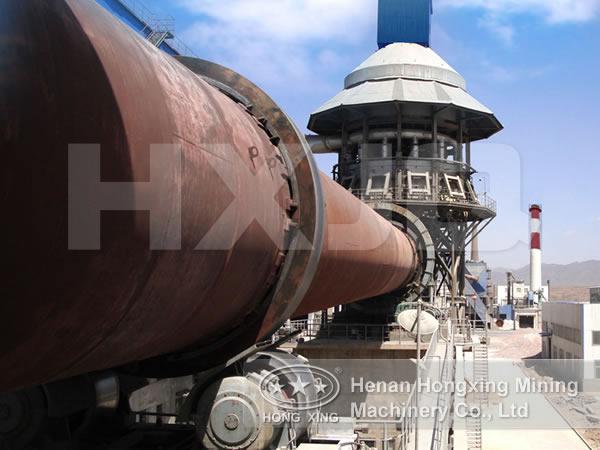 The Working Principle of Lime Rotary Kiln
The material to be processed is fed into the upper end of the cylinder, and then the lime rotary kiln rotates, material gradually moves down towards the lower end, and then the material undergoes a certain amount of stirring and mixing. The hot gases may be generated in an external furnace and may be generated by a flame inside the kiln.
The Using Purpose of Indirect Fired Rotary Kiln
The purpose is to insulate the steel shell from the high temperatures inside the kiln, and to protect it from the corrosive properties of the process material. The typical indirect fired rotary kiln can be prolonged by maintaining a coating of the processed material on the refractory surface. And the thickness of the machine is generally in the range of 80-300mm.
The Application of Clay Rotary Kiln
The clay rotary kiln which is used for magnetic roasting of iron ore and oxidizing roasting of chrome and nickel in the steel factory, which belongs to building material equipment. And the clay rotary kiln can be divided into dry process rotary kiln, mineral rotary kiln, ore rotary kiln and wet process rotary kiln.
Wet Process Rotary Kiln
The cement rotary kiln used in wet type production, which produces slurry with water content of 32%-40% from raw materials, is called the wet type rotary kiln. Due to the liquidity of the slurry, the raw materials are sufficiently mixed, making clinker of high quality, which is the main advantage of wet production.
Dry Process Rotary Kiln
Contrary to the wet type production, the dry type cement rotary kiln makes raw materials into dry powder with water content of less than 1%, thus reducing the heat needed for water evaporation. Hollow type cement rotary kiln has high consumption of heat because the exhaust flue gas is of high temperature. The fluidity of dry power is worse than that of the slurry.
Above on is just the basic information about the circumgyrate kiln, hoping that you can get the information that you want.