Best Screw Washing Machine in Henan
Brief Introduction to Screw Washing Machine:
The Hongxing screw washing machine is mainly used for sand processing, electric pole factory, building work site and concrete dam, various sands classifying and dewatering. This machine has three functions: washing, dewatering, classifying.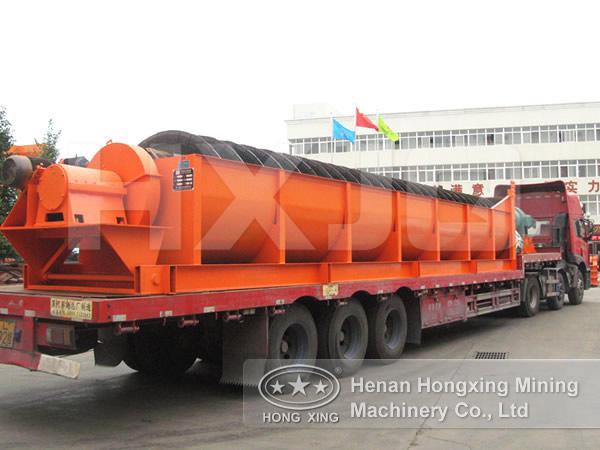 Unique Features of Screw Washing Machine:
A. It is of simple structure. The bearing device of impeller drive is separated from water and materials with water, to avoid in a large degree that the bearings are damaged by being soaked with water, sand or some polluted things.
B. When it is used for cleaning sand in quarries, it has many advantages compared with the traditional spiral one.
C. There is little loss for medium-sized and fine sand and stone powder. The grade and the fineness of the sand for construction after being washed can be up to the national standards, such as "sand for construction" and "cobble and broken stones for construction".
D. There are no other wearing parts except the screen mesh.5.It features of long service life and few times for maintenance.
Application Range of Screw Washing Machine:
It is widely used for cleaning materials in the following industries: quarry, minerals, building materials, transportation, chemical industry, water conservation and hydropower, cement mixture station and so on.
Operational Principle of Screw Washing Machine:
The screw washer adopts inclination of 15°, under the water tub, three weir plates form the sediment pool, the screw head is immersed in this pool, the screw is driven by electric motor through reducer rotating continuously, the fresh water is poured from porous plate at bottom of sediment pool.